Serve & Protect, the first book in D.C. Files series, is officially out!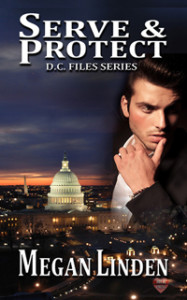 What happens when you fall in love in the heart of politics?
Sam Daniels' life turns upside down when he meets an amazing guy and gets a job offer he can't refuse almost at the same time. Working in politics and sustaining any kind of personal life is never easy, but when you're running a campaign to elect the first woman to the office of the President of the United States, it may become nearly impossible.
Blake Morin, after spending years as a SEAL, lives a quiet life with his daughter and he's fine with that. He can't deny the attraction between him and Sam, but is he ready to enter the world he used to avoid?
Buy links:
MLR Press
Amazon: US|UK|DE|CA
All Romance
Kobo
Barnes&Noble
You can also add it on Goodreads HERE