When The West Wing meets gay romance
---
SEEK & FIND
(previously Serve & Protect)
DC Files #1
Night Owl Reviews [the review of the 1st edition]: TOP PICK – FIVE STARS
Gay Book Reviews [the review of the 1st edition]: It was honest and mature and very real.
One of them is leading the campaign that can change history. The other just wants to raise his daughter in peace.
Sam Daniels meets an amazing guy and then the very next day gets a job offer he can't refuse. The problem? It's never easy to sustain any kind of personal life while working in politics, but when you're running a campaign to elect the first woman to the office of the President of the United States, it may become nearly impossible.
Blake Morin lives a quiet life with his daughter after spending years as a SEAL and he's fine with that. He doesn't want to fight the attraction towards Sam, but the last thing he needs is to be thrown into the political world of DC.
Are they going to find some middle ground or will they end up falling out before the race is over?
You can buy it on Amazon or read in Kindle Unlimited – CLICK HERE
____
CHERISH & GIVE
DC Files #1.5*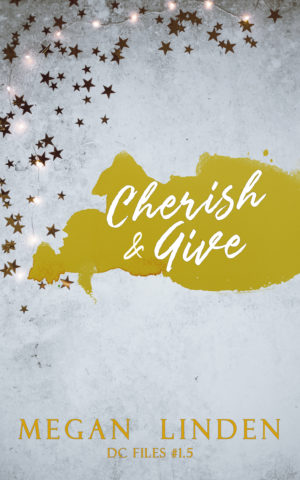 Currently available only for newsletter subscribers
(You can sign up in the sidebar!)
Presidential elections may be over, but Sam and Blake are still a work in progress.
The last fourteen months of Sam's life has been an unforgiving race that was supposed to be over by now. It isn't. While the presidential elections came and went, things don't seem to be slowing down, despite his efforts.
And Blake is a patient man, but even he has his limits.
Although old habits die hard, they can be conquered, and when the new realizations occur, it's a chance for Sam and Blake to decide how to move forward and navigate their relationship down the road. It's no Christmas miracle, but it's theirs and they aren't willing to back down.
*NOTE: While the longer books in the series can be read as stand-alones, this Christmas story is about the main couple from Seek & Find (DC Files #1) and is suited for people who had read that book first.
____
TRUST & CONFIDENCE
DC Files #2
It's been ten years, they're supposed to be over this.
Michael Lorne has worked for years to be where he is right now – on a protection detail for the White House chief of staff. But then his whole world turns upside down when he bumps into the one person he thought he would never see again. His childhood best friend, his first love, the one who got away.
After a stint of working on presidential campaign, Adam Davis is back where he belongs – writing for his political commentary blog, DC College. Life is good. He is comfortable. He is… not prepared to see Michael walking back into his life.
As they meet again, can they put their past behind them for good or are there some things that were never meant to end?
You can buy it on Amazon or read in Kindle Unlimited – CLICK HERE
____
PRESS & HOLD
DC Files #3
As the personal assistant of the White House chief of staff, Stevie Callan knows all the reasons why dating someone from the press corps is a bad idea, but faced with all the British charm of one of the best reporters in DC, Stevie's resolve finally crumbles.
Will Newbrough doesn't care who won the betting pool on the two of them finally getting together, he's just happy to get his shot with Stevie.
But then there's Stevie's father's illness and a new story that falls into Will's lap, and suddenly it feels like the world is trying to push them apart.
When everything they were afraid of becomes real, will there be anything left to recover?
You can buy it on Amazon or read in Kindle Unlimited – CLICK HERE
____
TRUE & FALSE
DC Files #4
Openly gay US senator and a man who has spent all his life in the closet… What can go wrong?
Senator Pascal Tirado's last relationship ended years ago and he blames his busy schedule for the lack of dates ever since. His pull towards Jeremy is unmistakable, though, so when he discovers it's mutual, Pascal wants to try to make it work. Whatever "it" is.
He thinks he knows what he's getting himself into but his patience will be stretched to the limits.
Jeremy Callan is so deep in the closet that even people closest to him have no idea he's gay. It has suited him all his life—in and out of the Corps—and he's set in his ways even once he begins a new chapter in DC. But then he starts sleeping with Pascal, and things get…complicated.
You can buy it on Amazon or read in Kindle Unlimited – CLICK HERE
____
GIVE & TAKE
DC Files #5
Ethan Krasinsky is a Supreme Court Justice candidate—the first judge president Galloway could put on the bench. Everyone expected resistance, but no one expected death threats.
Cue Diego Martinez, bodyguard extraordinaire. He may like easy and quick in his private life, but is very serious about his work, whether his clients like it or not.
When the two of them meet, it looks like the sparks will fly—just not necessarily the good kind. With time, they realize they may actually fit together well, but everything seems to be stacked against them—the professional boundaries, the age difference, cranky family members…
And that's not counting those death threats.
You can buy it on Amazon or read in Kindle Unlimited – CLICK HERE
____
OLD & NEW
DC Files #6
Amazon/Kindle Unlimited
Years ago, one of them swore off politics, the other swore off DC. Now, they're both coming back.
Jake Wilkinson escaped the country for a chance to be someone other than the president's son. He burned his bridges and broke his own heart, but he felt like he had no choice. It's been eleven years, though, and he can't say no to the Smithsonian job offer, so he comes back to DC to start a new life…
…only to stumble into the old one.
Troy Abbot once thought all his dreams had come true, but then the reality wore him down. He made peace with it, somehow, but when he hears Jake is back in town, everything changes.
Can they fix their old mistakes and start something new or should they just stay away from each other for good?
You can buy it on Amazon or read in Kindle Unlimited – CLICK HERE
____
If you don't want to miss any future releases, sign up for my newsletter HERE