That was fast, huh? Not even a month since the release of Serve & Protect and I'm already announcing another book. And it's coming in less than three weeks!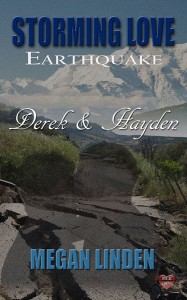 When two men with complicated past meet at the conference in Alaska, things are already on shaky ground.
Derek Warden is certain his boss sent him to cover the conference in the middle of nowhere, Alaska, to punish him for something. After an unpleasant phonecall from his father who tries to stop him from going, Derek is ready for the whole thing to be over before it even begins.
Hayden Shaw has been looking forward to this conference for months. The problem of fracking is very dear to his heart and he couldn't wait to spend the long weekend with like-minded people.
Neither of them expected the big earthquake, but most importantly – they didn't expect each other. Meeting again after over a decade may result in something even more surprising that the ground trembling under their feet.
The story of Derek and Hayden is a part of Storming Love: Earthquake series coming out from MLR Press. Every Friday for six weeks, there's going to be another story coming, and mine is the second one, so mark your calendars for 10th of July.
Six authors, six stand-alone stories, one earthquake.